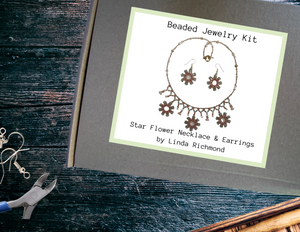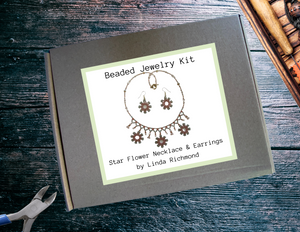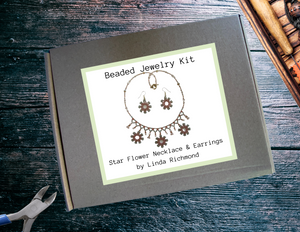 Beaded Jewelry Kit: Star Flower Necklace & Earrings by Linda Richmond
Description
This beautiful star-shaped necklace and earrings set is beautiful in lovely emerald and ruby. Makes a wonderful handmade gift for a special person or a new bride.
This fantastic kit comes complete with all the beads and materials you need to complete the project. Great gift for a young child learning to bead, a mother or grandmother making gifts for children, grandchildren or friends. A great bonding activity for mother and child, friends or colleagues.
Take the stress out of sourcing for materials which can make learning a new craft daunting and overwhelming. With this complete kit, you just focus on making memories of your learning and bonding experience and enjoy the rewards of your gorgeous finished product.
Features
This Beaded Jewelry Kit includes:
Beads

Tread
needle
full instructions
You will need:
Beading supplies as as pliers and cutters.