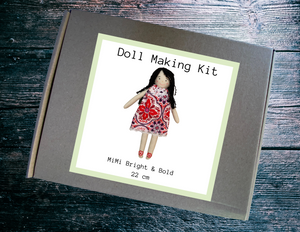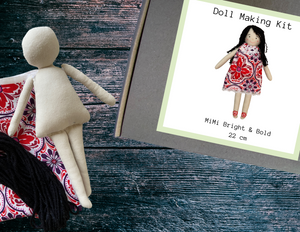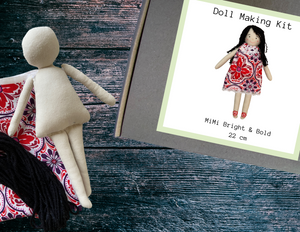 Doll Making Kit: Mimi Bright & Bold 22 cm
Description
This fun and easy doll making kit contains most of the supplies you'll need to create an adorable fabric doll. The fabric doll body has been premade to take stress and mess out of having to stuff polyfill. Fabric and lace is provided to make a bright and bold dress for the doll. 
Great gift for a young child learning to sew or a mother or grandmother who enjoys making dolls for her children or grandchildren. A great bonding activity for mother and child, for friends or colleagues getting together.  Great gift for a mothers' day, birthday or christmas. Take the stress out of making your own doll so that you just enjoy learning a new skill and creating the finished product.
Features
This Doll Making Kit includes:
Fabric doll body pre-filled with polyfil, 22cm
Fabric, lace to make little dress
Thread for sewing
Wool Yarn for hair
Instruction sheet and paper pattern with text and images.
You will need:
Sewing supplies such as dressmakers scissors, pins and needles
Pink color pencils for cheeks
Black marker for eyes