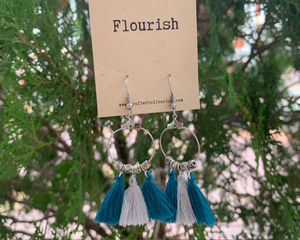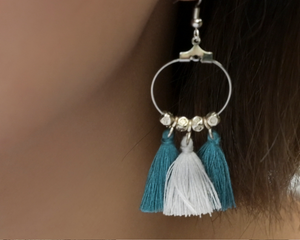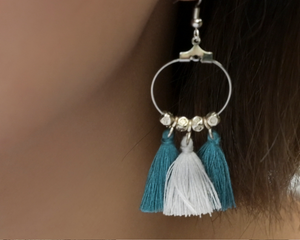 Aztec Teal & White Earrings by #daughtersofcambodia
Description
Introducing our Dazzling Artisan Earrings: Elevate Your Style with a Splash of Color! Crafted for those who exude confidence and embrace vibrant fashion, these earrings are more than accessories—they're an expression of your unique beauty.
Experience the joy of wearing these lightweight showpieces, guaranteed to steal the spotlight during your next Zoom call. Whether you're dressing down in jeans, adding a pop of personality to your corporate attire, or stepping out for a glamorous evening, these earrings are your go-to.
Embrace the individuality of each handcrafted pair, as slight variations make them truly one-of-a-kind. For your comfort and peace of mind, the earring hooks are thoughtfully made from nickel-free stainless steel.
But there's more to these earrings than meets the eye. They carry a powerful story of transformation, skillfully crafted by the hands of extraordinary women who've triumphed over adversity. With your purchase, you're not only acquiring a beautiful piece of jewelry, but you're also supporting female empowerment and dignified employment. Make a difference today. Choose elegance with a purpose.
Features
Material: Cotton Threads on nickel-free stainless steel hooks
Dimensions: 3cm (W) x 6.5cm (H)
Every piece is individually handcrafted. No two pieces are identical. Variations from photo may be expected.
Delivery
Ready to dispatch in 5 business days.
Free domestic shipping for orders above S$100.
Please view our Shop Policies for any returns and exchanges.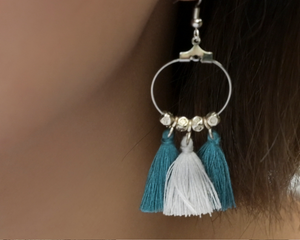 Lovely earrings
The tassels were nicely wrapped when it arrived. Protected it from getting crushed. Appreciated the care in the packaging. Nice ethnic look without being too exotic😀