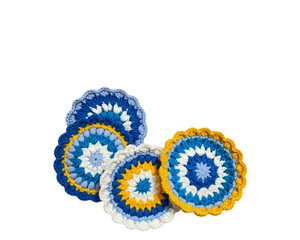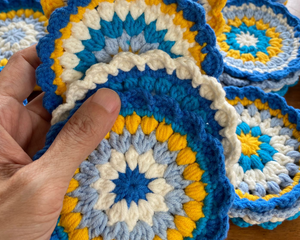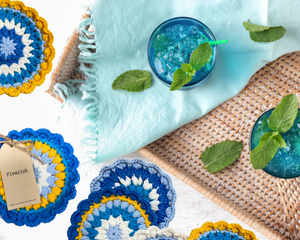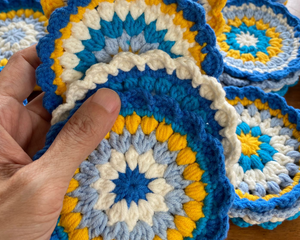 Radiance Crochet Coaster Set 10cm | 4 in a Pack
"For the earth will be filled with the knowledge of the glory of the Lord as the waters cover the sea." Habakkuk 2:14
Description
In serene shades of calming blue, reminiscent of flowing waters, and radiant gold symbolizing the glory of the Lord, each coaster is a masterpiece in miniature form. Reminding us of the earth being filled with the knowledge of the glory of the Lord as the waters cover the sea.

These coasters transcend mere functionality; they carry a touch of divine elegance to your table setting, embodying the expansive knowledge of the Lord's glory as described in the scripture. Perfect for your morning coffee or evening drinks, this set invites you to contemplate the vastness of God's glory in every detail.

Bring the spiritual essence of the scripture into your home with this exquisite collection. A meaningful gift for those seeking a reminder of the boundless glory of the Lord that covers the earth as the waters cover the sea.
Features
Material: Acrylic Yarn

Dimensions 10 cm diameter
Care Guide
Machine wash at 30 degrees in a mesh laundry bag.

Machine Dry at lowest heat setting or lay flat to dry.


Bulk Delivery
This item is available in bulk as corporate gifts.
Please email flourish.brmc@gmail.com for bulk prices and delivery timelines.