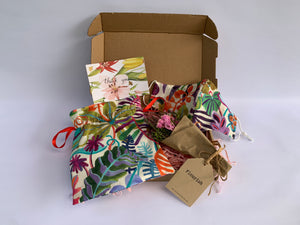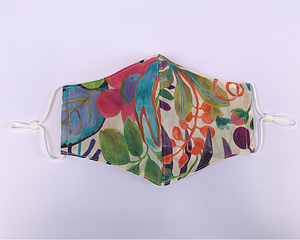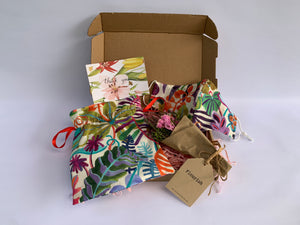 Stay Safe Mum Handmade Liberty London Print Face Mask Gift Box - Jungle Trip
 Description
Give the gift of love and style with the ultimate Stay-Safe Mum Handmade Face Mask Gift Box. Perfect for the practical and stylish mums.
Crafted from soft, breathable cotton, this face covering is comfortable and perfect for everyday use. Designed with double layered protection, this washable face mask comes with a filter insert and adjustable straps to optimise your wellness and that of others.
100% of proceeds from our mask sales go to our beneficiaries in Singapore. 
 Gift box includes:
1 or 2-pieces Face Mask/s with optional 1-piece storage pouch

Beautiful Mini floral bouquet made from Italian dried flowers
Botanical Thank you note card & Flourish tag for your message
Shredded packing
Packaged in rigid top flap box: 8" (length) x 5.5" (breadth) x 1.5" (height)
Face Masks are available in 2 sizes: 
Medium size masks fits petite ladies and children: 20cm x 12cm
Large size fits women with larger faces and men: 22cm x 14cm
 If you would prefer Large size, please indicate in the comment box. Otherwise, Medium is the default.
Delivery
Pre-order before 5 May for delivery on 6/7 May.