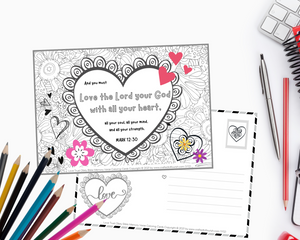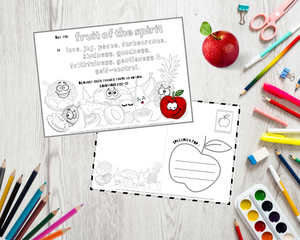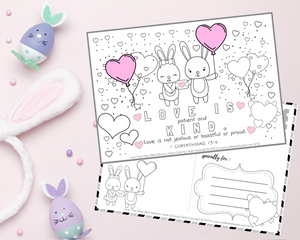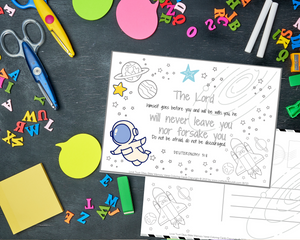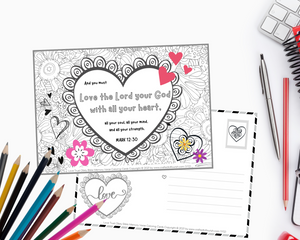 Love Trust Faith Obey Scripture Coloring Cards for Kids | 12 in a pack
Description
Love Trust Obey Bible Memory Verse Coloring Postcards for Kids is a beautifully curated collection of 12 memory verses; 4 scripture verses each on Love, Trust and Obey. Specially designed for young Christians between 6-12, it makes a perfect gift for sons, daughters, sisters, brothers and friends. It will inspire children and help them deepen their faith in the Lord while coloring scripture verses set in adorable graphics. Coloring cards are a great way to encourage kids to discover the truths of Scripture while engaging in a creative activity. 
Each Scripture verse is typed on one side and illustrated with appealing graphics. The reverse side is for personal reflection or message. The set of 12 cards is printed on heavy cardstock, easy to take along for on-the-go coloring inspiration and is perfect to give or mail as a greeting for someone special.  Attractive stickers are included to bring each colored scripture card to live. Spending time to add color to a verse and reading it through repeatedly will help set God's Word to memory.
These make wonderful gift for young kids that will bring excitement to their Bible learning experience.
Features
12 scripture coloring cards
Dimensions: A5 Size 21cm x 15cm

Thick cardstock
4 cards in each of the 3 Themes:

Love

"Love the Lord your God with all your heart", Mark 12:30
"The fruit of the spirit is love, joy, peace, forbearance, kindness, goodness, faithfulness, gentleness, self-control", Galatians 5:22-23
"Love One Another", 1 John 4:7
"Love is Kind", 1 Corinthians 13:4

Trust

"Trust in the Lord", Proverbs 3:5
"In God I Trust", Psalm 56:3
"The Lord is my strength", Psalm 28:7
"The Lord will never leave you nor forsake you', Deuteronomy 31:8

Faith & Obey

"God is faithful and just", 1 John 1:9
"Teach me your way, Lord", Psalm 86:11
"Do work for the Lord", Colossians 3:23
"Put on the full armor of God", Ephesians 6:11