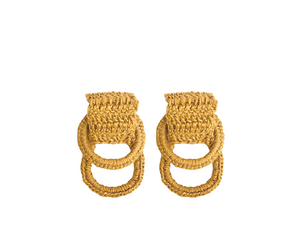 Towel Holder - Oven Towel Holder Set ( 2 in a set)
Description
Elevate Your Kitchen with Our Handcrafted Jute Crochet Towel Holders!
Keep your hand or dish towels securely in place with these beautifully crocheted holders. No more accidental slips to the floor - these holders ensure your towels stay clean and within easy reach on your oven, refrigerator, or kitchen cabinet handles. Crafted from 100% jute, they're not only functional but also eco-friendly, biodegradable, and recyclable.
This is a thoughtful gift for bridal showers, weddings, housewarmings, and Christmas. Give the gift of both style and practicality with these exquisite towel holders!
Features
Materials: Jute and Stainless Steel Ring
Dimensions: 6.5 cm (W) x 19 cm (H), Ring Diameter 6.5cm
Care Guide
Hand Wash carefully in cold water, as warm water could cause shrinkage.
Use a gentle mild detergent if needed.
Dry flat between 2 towels until the moisture has been soaked up.
Delivery
Ready to dispatch in 5 business days.
Free domestic shipping for orders above S$100.
Please view our Shop Policies for any returns and exchanges.